Malaysia is one of the most multicultural countries in the southeast of Asia. Sporting is one cultural activity which is much appreciated by the Malaysians. Walking, running, swimming and cycling are some of the widely practised sporting activities in the country. But when it comes to spectatorship, the most popular sport entails an entirely different list. Here is a peek on the most-watched games in Malaysia.
Football
Football is the most-watched sport in the region. Spectators fill up the stadiums while others are glued to their television sets to watch this spectacular game. Harimau Malaysia, the national football team, participates in international competitions. They won the 2010 AFF Suzuki cup. They won in the 2009 and 2011 Southeast Asian cup. As of September 2019, the men's national team ranked at 156th in FIFA rankings, while the women's team was at position 89.
Hockey
The men's field hockey team is one of the best performing sports teams in the country. The Speedy Tigers, (their nickname), currently sit at 11th in the world rankings and are second in Asia. They have been participating in recent world cups and putting up a great performance. Hence, it's a no brainer to understand why the sport commands such a huge following in terms of spectatorship.
Rugby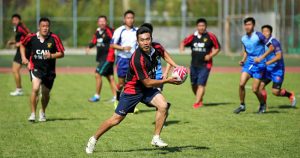 This is one of the most popular sports in the world. It is played across all the continents, and it consists of arguably the most competitive world series. Malaysia is no different, and a huge number of fans fill the stadiums to watch and cheer on their favourite teams.
Badminton
This is one sport which makes the cut on both the most widely practised, as well as most-watched, in Malaysia. Most Malaysians practice sport as a leisure activity. The game is also played on a competitive and professional level.